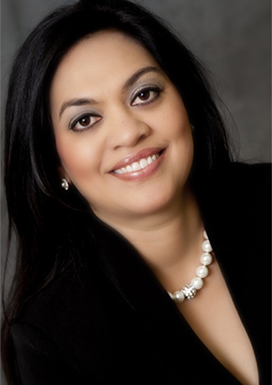 Dipti R. Shah, MD
Dipti R. Shah, MD is a clinical Internist and Nephrologist practicing in Las Vegas for the last 10 years. She is married to Russell J. Shah, MD, a practicing Neurologist and Neurophysiologist in Las Vegas as well.
She attended an accelerated, six-year, combined BS/MD program at the University of Missouri-Kansas City and graduated with both degrees in 1994. She then went on to complete and internship and residency in Internal Medicine at Rush University St. Luke's Medical Center. Following her residency, she completed a fellowship, again at Rush University, in Nephrology and Hypertension. In addition to her training in Internal Medicine and Nephrology, she had the opportunity to work at Humana Urgent Care in Chicago as well as serve as an Emergency Room Attending at the Rush University Emergency Room. From there, she moved to Southern California and joined a private practice Nephrology group, Westside Nephrology and worked primarily at St. John's Hospital in Santa Monica. She later went on to open her own practice servicing the West Los Angeles area, doing primarily hospital-based work. She relocated to Henderson, Nevada in 2007. She opened University Urgent Care and served as the medical director. She presently maintains a private practice in Las Vegas. She primarily practices office-based Nephrology and Internal Medicine.
Outside of medicine, she enjoys serving the community. She was appointed to the Nevada Board of Health by Governor Brian Sandoval in 2013 and was reappointed in 2017. Her current term will continue until 2021. She is also the Vice-President of the Las Vegas India Chamber of Commerce (LVICC) and Treasurer of the Nevada Association of Physicians of Indian Origin (NAPI). She will be serving as President Elect and then President for the upcoming terms. In addition, she is a member of the Clark County Medical Society and the Clark County Medical Society Alliance.
CLINICAL EXPERIENCE
Sept 2017 – Present
Clinical Trials Sub-Investigator
Impact Clinical Trials
Las Vegas, NV
Sept 2007- Present
Clinical Nephrologist/ Internist
RADAR Medical Group, LLP
Las Vegas, NV
Oct 2008 – Present
Medical Director
University Urgent Care
Las Vegas, NV
Aug 2001 – Aug 2007
Clinical Nephrologist/ Internist
Beach Medical Associates, Inc.
Long Beach, CA
Dec 1999 – Aug 2001
Clinical Nephrologist/ Internist
Westside Nephrology
Santa Monica, CA
Jun 1999 – Dec 1999
Emergency Room Attending Physician
Rush Presbyterian St. Luke's Medical Center
Chicago, IL
1996 – 1997
Attending Physician
Rush Presbyterian St. Luke's Medical Center
Chicago, IL
1995
Humana Urgent Care
Staff Physician
Chicago, IL
ACADEMIC APPOINTMENTS
1997 – 1999
Instructor
Rush University Medical Center – Department of Internal Medicine
Chicago, IL
POST GRADUATE TRAINING
1997 – 1999
Nephrology and Hypertension – Fellowship
Rush Presbyterian St. Luke's Medical Center
Department of Nephrology
Chicago, IL
1994 – 1997
Internal Medicine – Residency
Rush University Medical Center
Department of Internal Medicine
Chicago, IL
EDUCATION
1988 – 1994
Doctor of Medicine / Bachelors of Science
University of Missouri – Kansas City
Kansas City, MO
(Combined 6 Year Program)
LICENSURE
2007 – Current
1999 – Current
State of Nevada
State of California
License #12211
License #AO68874
BOARD CERTIFICATIONS
2009 – Current
1999 – Current
1997 – Current
Diplomate, American Board of Internal Medicine
Diplomate, American Board of Internal Medicine, Subspecialty of Nephrology
Diplomate, American Board of Internal Medicine
PROFESSIONAL AFFILIATIONS/ASSOCIATIONS
Member of the FBI Citizens Academy
Member of the FBI Las Vegas Citizens Academy Alumni
American Society of Nephrology
American Society of Internal Medicine
American College of Physicians
American Medical Association
Indian Medical Association of Southern California
American Association of Physicians of Indian Origin
Treasurer – Nevada Association of Physicians of Indian Origin
VP – LV Indian Chamber of Commerce
AWARDS AND HONORS
Member

Recipient
Deans List

Nevada Board of Health, appointed by Governor Sandoval 2013 – 2017
Reappointed 2017 – 2021
Fannie Mitchell Hall Scholarship
University of Missouri – Kansas City
HOSPITAL AFFILIATIONS
St Rose Dominican Hospitals – Nevada
*San Martin Campus
*Sienna Campus
*Rose de Lima CampusUniversity Medical Center – Nevada
HOSPITAL AFFILIATIONS
2000 – Pregnancy and the Kidney – Grand Rounds
Department of Obstetrics and Gynecology
St. Johns' Medical Center
Santa Monica, CA
1997 – Case Report of Renal Sarcoidosis – Clinical Pathology Conference
Department of Internal Medicine
Rush University
Chicago, IL
PUBLICATIONS
| | |
| --- | --- |
| | Shah DR.; Hou S.; "Acute Renal Failure in Pregnancy" In Molitares Band; Finn WF., Eds., Acute Renal Failure, A companion to Brenner and Roctor's The Kidney, W.B. Saunder Company, Philadelphia (2001) |
| | Shah DR.; Hoeksema J.; Korbet SM.; Report of a Case of Von Hippel Lindau Syndrome with Multiple Malignant Renal Tumors, The Importance of Genetic Testing. Clinical Nephrology 53:206-21 (2000) |
RESEARCH
Rush University
Surviving Malignant Hyperkalemia
Advisor: Roger Rodby, MD
University of Missouri – Kansas City
Determination of the percentage of patients with equivocal cortrisyn stimulation tests results
Developing Addison's Disease
Advisor: Leland Graves, MD